By Fred F. Castaneda, RA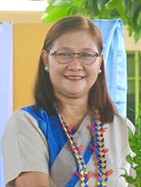 ASAT welcomes her new Principal, Dr. Mary Ann Conde- Madrid. Having been a Principal from numerous schools, she envisions ASAT as "a haven for responsible digital citizenship where technology will play a very significant role in its management and operations, especially in its delivery of curriculum and instructions to the learners." Knowing that each learner has different learning needs, her supervisory approach is "understanding each teacher's strengths and supervisory needs so that each teacher can have "ownership of the process"
She gained her education from Public and Private Schools. She attended her elementary education at Maxingal Elementary School, Lal-lo District, and graduated as First Honorable Mention in 1981. Her secondary education was at Lal-lo National High School, Lal-lo, Cagayan and graduated in the Top 15 in class. She passed the Selected Ethnic Group Educational Assistance Program (SEGEAP) for College Scholarship. With this scholarship, she enrolled at St. Paul University Philippines for her Undergraduate Studies and graduated in 1989 with a Bachelor in Secondary Education, Major in English, and Minor in History. She was a Leadership Awardee. She completed her Master's Degree at St. Paul University in 2005 with a Master of Science in Teaching English. She garnered her Doctor of Philosophy in Education, Major in Educational Management in 2013 at the Cagayan State University, Aparri Campus.
Dr. Madrid brings her wealth of teaching and administrative experience to ASAT. Her first work experience was as a Contractual Teacher at the Lyceum of Lal-lo, Lal-lo Cagayan from 1990-1991. From June 1991-2009, she worked at DepEd Santa Teresita National High School, starting as a Secondary School Teacher-I, then as a Master Teacher-I, and later as Master Teacher-II. She was the school paper adviser of "The Theresian" and the publication won awards in the Division and Regional Press Conferences. She was also designated Adviser of the Supreme Student Government (SSG). From 2009-2011, she was School Principal-I at SDO Cagayan, Casambalangan National High School, Casambalangan, Santa Ana, Cagayan. She initiated the construction of a 2-Classroom Building donated by the Philippine Chinese Chamber of Commerce. The school site was inhabited by informal settlers and she initiated their relocation through the help of the Local Government Unit (LGU) of Santa Ana. From 2012-2017, she was Principal-II at SDO Cagayan, Rebecca National High School, Rebecca, Gonzaga, Cagayan. While at this School, in 2015-2016, the school was 1st Runner-Up in the Congressional Search for Best Brigada Eskuela Implementer, and, 2nd Runner-Up in the Division Level Search for Best Brigada Eskuela Implementer, Exceptional Category. From 2017-2022, she was School Principal II at Gonzaga National School, Smart, Gonzaga, Cagayan. She accomplished the following: 1) Initiated the acquisition of School Lot Title thru the Project Acquisition of Land Ownership Thru School Lot Titling- "Project-A-LOTS". 2) Initiated the implementation of the Special Program in the Arts (SPA), a special curriculum that caters to the needs of learners who excels in Dance, Music, Theater and the Arts. 3) Initiated the pilot testing of the Google Suite for Education-using the Google Classroom as the main platform in On-Line Distance Learning during the Covid-19 Pandemic, this innovation partly solved the classroom backlogs of Gonzaga NHS. 4) Initiated the implementation of the Senior High School Alternative Learning System (SHS-ALS)-a special program that caters to the educational needs of learners using modular system learning where learners study the modules at their own pace and seek the assistance of their Mobile Teachers for competencies that are difficult to comprehend.

She attended the following webinars, seminars & trainings: 1) SEAMEO SEN Webinar-New Normal for Special Education. 2) SEAMEO VOCTECH (Southeast Asian Ministers of Education Organization) Regional Centre for Vocational & Technical Education and Training in Brunei Darussalam, March 01-03, 2016 "Enhancing the Corporate Image of Educational Institutions". 3) NEAP School Heads' Development Program (SHDP) Advanced Course for School Heads of Senior High Schools Module 1-Leading Chance& Instructional Supervision and Module 2-Operations Management. 4) Supervisory Development Courses I, II and III by Civil Service Commission. 5) Seminar on Legal Matters, Ethics and Accountability.

The following are scholarship grants she received: 1) 2009-SEAMEO INNOTECH COURSE on Instructional Leadership Competencies conducted via flexible learning modality and through Iflex (INNOTECH Flexible Learning Management System) of SEAMEOINNOTECH, Diliman, Quezon City, Philippines, Nov 23-Dec 18, 2009. 2) 2022-SEAMEO INNOTECH SUPER Excels (Supervision in School Leadership for Southeast Asian School Heads.)
As she prepares for ASAT for the full-blown face-to-face classes, the major challenge she faces is huge classroom backlogs. ASAT enrollment this year has swelled to more than 2,800 learners an almost 2% increase from last year. Adding to the need for new classrooms and teachers, some classrooms are unusable due to the damages caused by the recent back-to-back typhoons of Karding, Maymay, Neneng, Obet and Paeng. Heavy rainfall flooded the Campus due to the lack of site drainage compounding access difficulty to the school. Despite these conditions, the school must continue to provide quality education to all learners.
While ASAT waits for the restoration of damaged classrooms and the construction of new school buildings, Dr. Madrid shall use technology in the delivery of instructions to provide education to all learners. ASAT shall implement a combination of "On-Line Classroom" using Google Classroom as the main platform and "In Classroom". Learners shall be rotated on certain days between "On-Line Classroom" and "In Classroom" to augment classroom shortage. She understands the significance of face-to-face classes with learners but "teaching and learning do not happen within the four walls of the classroom but everywhere, anywhere and anytime." This process will require gadgets such as smartphones, tablets, laptops, desktops, and an internet connection. She is certain that "80% of the total school population have gadgets and internet connection. The parent's role in this innovation is very significant and very critical because they will be personally involved in monitoring their children while they are attending their online classes at home. For learners and their parents who cannot buy a smartphone and internet connection, modular modes shall be used" Until the school has sufficient classrooms and teachers, she said that the "ASAT teaching and learning process will take place in the physical classroom and the virtual classroom."
As she embarks to lead ASAT into a new normal with digital technology, she needs everyone's support. Her messages are as follows:
"To the Mayor and LGU, leading one of the largest schools in the entire Division of Cagayan is a very enormous task and I thank the officialdom of the Municipality of Aparri through the Honorable Mayor Bryan Dale G. Chan for accepting me to take the lead in the education of our young Aparrianos. We cannot do the task alone; we need to be united to achieve the success that everyone deserves. We need to be transparent because it is through transparency that we invite more the trust of stakeholders to invest their time, money, and resources. Public Service is a Public Trust.
To the Parents and their children, we will make our communication line open to them. Communicating the academic standing of their children is very important. We will be closely working with them not only in the delivery of instruction but in instilling discipline in their children. Teaching is an easy task because teachers are trained to teach but it is in instilling discipline in learners in the classroom that makes the task of teachers very challenging especially since we are guided by the Child Protection Policy.

To the Teachers, they need to revisit the 19 objectives in their "Individual Performance Commitment and Review Form" (IPCRF) because these serve as their road map in their daily routine. We want them to attain Outstanding Performance because their performance is our performance and the performance of their learners will also be their performance. And our greatest "Return of Investment" (ROI) as teachers is when we see our learners be successful in their fields of specialization, the very reason why we are sustaining our partnerships with the ALUMNI is that they are the living evidence of how great the works of a teacher is.

To all our Stakeholders (Parents, LGU, Alumni Association, Civil Society Organizations, and Private Individuals), no school can exist without the support of the stakeholders. Our leadership is anchored on the principle of shared governance, shared responsibility, and shared accountability. We will continue to actively engage our stakeholders for effective learning to take place, especially in the innovation that we are introducing-the use of the virtual classroom as an alternative to the physical classroom, and our immediate response to address physical classroom backlogs."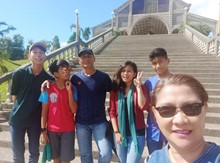 Dr. Madrid's day starts at an early dawn to prepare for the day's work. She leaves home early for a one-hour drive so she can be at ASAT by 7 am. She is married to Edwin Patubo Madrid, Municipal Agriculturist of Sta. Teresita LGU since 2008. They have four children: Novietta Alyana C. Madrid-Manuel, who works in Bahrain with her husband Jhomel Manuel; Elger Frannolie, HRM Graduate and works in Manila; Justine Jerol, 5th Yr College of Civil Engineering, University of St. Louis, Tuguegarao City and Septhczar Embre, Grade 11, ABM Student, University of St. Louis, Tuguegarao City.
Dr. Madrid is a member of the following organization: 1) Treasurer-Association of Secondary School Heads, Congressional District 1. 2) Secretary-Association of Secondary School Heads, Division Level. 3) Auditor-Barangay Mission Parish Pastoral Council. 4) Member-Girl Scout of the Philippines, Northern Luzon Chapter. 5) Member, National Association of Secondary School Heads of the Philippines. 6) Part Time Instructor/Professor/Facilitator at Lyceum of Aparri Graduate School, Aparri, Cagayan.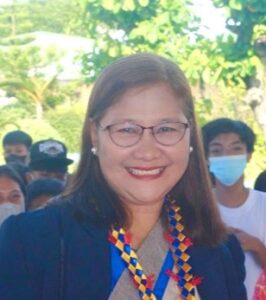 Her free time is spent cooking, playing the guitar, and reading digital novels. She is a Certified Plantita. For those looking for a match in table tennis, she might just be the opponent for you.
Her vision to make ASAT "a tool for a productive future and a haven for responsible digital citizenship" is best achieved with everyone working together as one team. She added that "it's not easy but we must be open-minded and embrace technology".